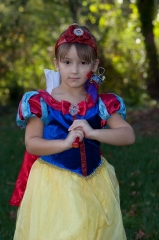 Over the last few says we have been to the Hunt Club Farm, had the Montessori Halloween Parade, had Sarah's Soccer "graduation", and did our own Halloween celebrating with friends at our house.  Sarah enjoyed everyone one of these events tremendously.
The Hunt Club is a local farm that is half-petting zoo and half carnival.  There are bouncy houses, crafts for kids, goats to feed, ponies to ride, you name it.  Sarah always enjoys going there, and she comes home ex-haust-ed.
The Montessori Parade is always nice because they get all of the kids to dress up in their costumes and they march parade style up and down the street where there school is.  They don't march IN the street though.  The march on the sidewalk.  But you still hear people honking their horns as they drive by.
Sarah's soccer "graduation" was very nice.  We don't officially keep score, but I can tell you that we were undefeated this season, and the team scored over 100 goals.  Very impressive.  Sarah tries very hard, and she did have one goal this season.  And of course, she has a blast playing it.
Finally, today was Halloween.   We had Karen, Calla, & Quinn over, along with (Big) Sarah, Hailey, and Cole.  We decorated cookies, ate fajitas, and took lots of pictures.
Here is the link to the slideshow of all the pictures from each of these events